The Cat Asylum
A brand identity and packaging design system for The Cat Asylum – A microbrewery specialising in historical recipes from Britain and around the world. History in the making.

The business operates from what was once a plough workshop and is still one of the best preserved Georgian workshops that exists in Nottinghamshire.

Ron Pattinson, the world famous beer writer and historian, went to school in Newark and is a personal friend of the brewery. It was his well documented enthusiasm for forgotten styles of beer that first inspired the idea of a micro brewery that would historically recreate these lost tastes.
The adaptable identity offers flexibility and can be applied to any number of touch points as the brewery expands and diversifies going forward.
Intentionally quiet, the Cat detail (in the negative space of the 'M') is designed to be pleasing when you spot it. The silhouette can also be used as a memorable, stand-alone icon, for use in social media avatars and at smaller scale.
A design structure has been devised, which gives a distinctive look to all packaging and pump clips, allowing future releases to be created with ease. A simple change of colour, name and information to branded templates differentiates the products from one another.
We've made sure that all required information has a specific place, and have eliminated the unnecessary for an approach as succinct and direct as possible.
A variable typeface by TypeType Foundry was selected to separate The Cat Asylum from other breweries, and has a certain playfulness that aligns with the brand's approach and tone of voice.
Labelling has been designed and sourced for several releases to date, and the scale can be comfortably adapted to bottles of different volume when required.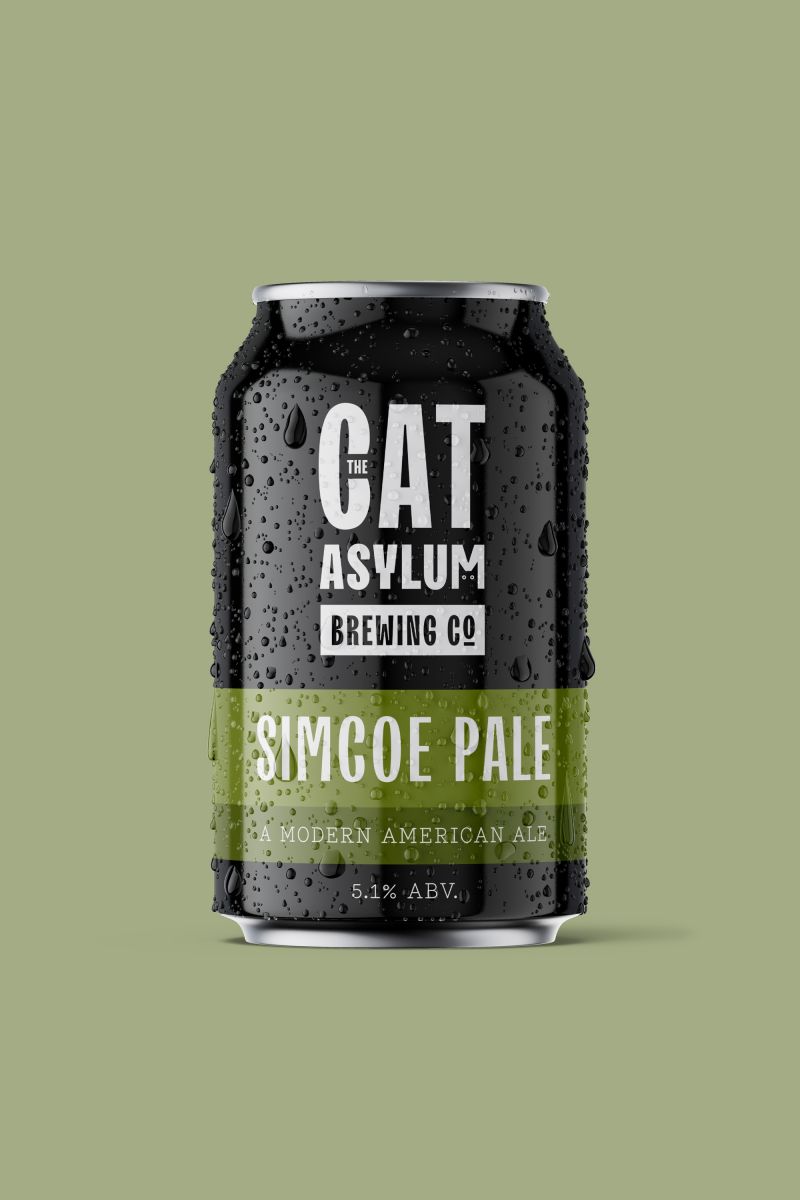 Our scheme is also transferred to drinks cans, maintaining the level of brand identification and consistency on the shelf edge.
Special print finishes have been used to heighten limited edition batch releases. Metallic foils elevate the branded labelling for an enhanced, premium aesthetic.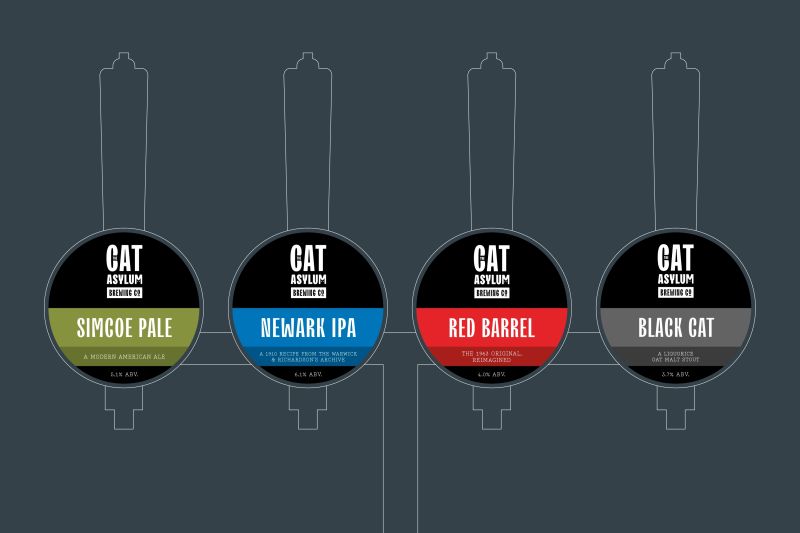 Our simple pump clip design cuts through the noise and differentiates from the plethora of microbreweries using multi-colour patterns and illustrative approaches to their branding, when displayed in a craft taproom environment.
As the brand evolves, additional merchandise and collateral is required. Our approach to every identity brief considers all appropriate applications and possibilities – to ensure the identity we create is ready for the future.
Our relationship with The Cat Asylum doesn't stop here. We remain dedicated to building this brand – assisting with design direction and development of products and experiences moving forward.

Thanks to Henry for having faith in us, allowing freedom to push the brief and help create something we are extremely proud to have been a part of. A special thank you to our friend and collaborator Tom Hartford for the kind introduction and beginning of this enjoyable partnership.